Annnnddd we're back with the rest of the house tour. I was originally going to split these up into separate posts, but there is actually SO much to post about as we move in and get settled. So here we are doing the rest of the house tour so you can see the space before we started any renovations and moved in. Make sure to peep the Insta for a video walk through!
On this level we have Andee's room, a toy room/another kid's room, a bathroom and our master bedroom with an ensuite.
Andee's room will be pretty easy to set up as we already have all her furniture. I am going to switch things up a bit and add touches of pink to her room now that we know she is a girl. We didn't find out the gender of the baby while pregnant, so we kept everything pretty neutral. We have a cool pink wire shelf thing (I literally don't know how to describe it better than that LOL) that we'll put on the wall, and I made a macramé garland that I think I will put above her crib. I need to buy a new rug for her room as well. Urban Outfitters has super cute boho rugs that I might go for… we shall see!
We have a daybed that will go in the other kid's room and some of Andee's toys. I'm thinking this might be a nice space for her to play in while Keenan and I are getting ready. This may eventually become her room one day, which is why I love the daybed in this room. It has a trundle bed as well, so it will be perfect for sleep overs one day.
Our bedroom is a bit of a gong show because a lot of our furniture is back ordered. We bought a new bed frame from Article and a dresser and floating nightstands from EQ3. We chose walnut, which will be our first time purchasing darker wooden items. We're pretty stoked for the change in furniture though. Our closets are a bit of a hot mess too. There were some poorly installed shelfs that Keenan ripped out because he wants to redo them. In the mean time, it's somewhat of suitcase livin' for us.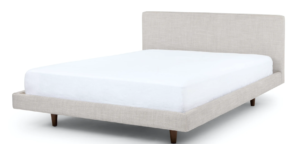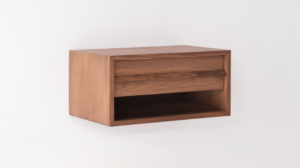 The bathrooms are a work in progress for us as well. The showers are great and the toilets work fine, but our issue resides with the vanities. The one in Andee's bathroom has plenty of storage space, which is the complete opposite of the one in the ensuite. We don't like the look of either though, so we will eventually change those. We are going to buy a mirror with storage to put above the vanity in our bathroom, which should help a bit until we have time to change the vanities out. We'll most likely renovate both bathrooms completely one day, but they work for us pretty well as is for now.
We are having the carpet redone on this level so it will be fresh and unstained. If you haven't seen or smelled old carpet once it's ripped out, then you don't know the YUCK that is super old carpet! We are going to set up a big comfy sectional from IKEA with our nice, big TV to make a cozy lounge area. We aren't putting a TV on the main level, so this will be a space we will hang out in quite a bit. We might eventually add a wet bar in the corner of this room, which will be great for hosting. I'm just envisioning football streaming, drinks flowing and kids playing. Sounds pretty glorious to me!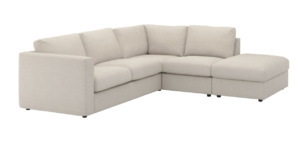 There is a guest bedroom on this level, and we will be putting our old bedroom furniture in this room. I know GiGi (my mom) is happy about having this space. Keenan even mentioned setting up a TV in that room just for her. 🙂
There is a decent sized laundry room on this level as well that we may turn into a bathroom one day. The great thing about split level houses is you can renovate things and hide a lot of it behind walls (duh) and under stairs. So if we do turn the laundry room into a bathroom, we will move the laundry room down a level, but just on the other side of the wall.
This space is just a huge open room with two storage closets. There is kind of a nook on the right hand side of the room, so we are going to put a home gym there. We are thinking of buying a squat rack, row machine, more kettlebells and dumbbells, TRX bands, a landmine and Keenan will eventually build us a deadlift platform. I already bought a white board to go on the wall for listing out exercises or encouragement. Must be the teacher in me. LOL! Buying gym equipment is somewhat of a big cost up front, but you save so freakin' much by not paying for a gym membership over the years. I've come to really love working out from home since COVID struck, so needless to say I'm pretty stoked about this, too.
Aside from exercise, another one of my passions is crafting, particularly with textiles. So on the other side of the basement, we are going to set up a big craft area. This will be for me but also for Andee as she gets older. My mom was really big into scrapbooking while I was growing up. She had a room in our basement with all of her things nicely organized. Once my parents divorced and my dad took the furniture from our guest bedroom, she turned the empty room into the ultimate craft room. Talk about havin' some bomb ass school projects! Anyway, I'm excited to set up a space similar to that for me and my baby girl.
Since our house is a four level split, we do have three sets of stairs to baby proof. Fortunately there are doors leading into each of the lower two levels. We'll go ahead and set up a baby gate at the top of the stairs by our bedrooms, and then maybe set one up at the bottom of the same set of stairs on the main level if we need to. Andee has just started crawling but isn't climbing on anything yet. So we will adjust as we need to in order to keep baby girl safe. If she's anything like her mama, she'll be into all. the. things. We shall see though!
As you can tell, we have lots of projects ahead of us, but we are so, so thrilled to have a place of our own. I'd love to hear your thoughts on our space. Let me know if you like what we got goin' on or if you have any other suggestions! <3